Mirrored by about a zillion data points of light in either AppleWorks or Microsoft Excel spreadsheets on multiple media here at the home office of my
Risky Business
, changes in the U.S. economy are reflected by changes in its equity market. And vice versa.
Consistent with the anticipatory approach outlined in
"A DEW Line for Market Operators"
yesterday, I monitor this continuous feedback loop between the economy and the stock market in a number of ways. One of them entails comparing the condition of the proprietary
U.S. Economic Index
(USEI) with the condition of the nonproprietary
Standard & Poor's (S&P) 500
(
SPX
).
Mixing
Institute for Supply Management
manufacturing and nonmanufacturing figures with a special sauce, I developed the USEI in an effort to capture all of my country's economic activity in a single number I can employ in the guidance of my investing and trading. A fool's errand? Maybe. Maybe not.
Thanks to my comparative tracking of the S&P 500 and USEI (among other indicators), I began raising cash in both the Investing Portfolio and the Trading Portfolio last May 4. As a market chameleon, I also more or less swapped the bull suit with the bear suit. And I will show you why.
SPX and USEI End-of-Month (EOM) Values, January 2008-August 2011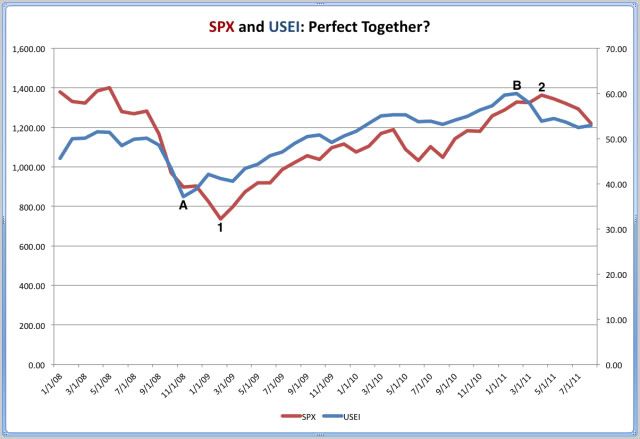 N.B.: The SPX scale is on the left; the USEI scale is on the right.
Source:
Risky Business
Chart Based on ISM-Founded
Proprietary and Yahoo! Finance Data
As its title indicates, this chart compares the S&P 500's EOM values with the USEI's EOM values since the latter's inception. From left to right, one can see four data points highlighted as
A
,
1
,
B
, and
2
. Below are explanations of these points:
-- Point
A
marks the most recent cyclical trough in the USEI: 37.13 in November 2008.
-- Point
1
marks the most recent cyclical trough in the SPX: 735.09 in February 2009.
-- Point
B
marks the most recent cyclical peak in the USEI: 59.94 in February 2011.
-- Point
2
marks the most recent cyclical peak in the SPX: 1,363.61 in April 2011.
Based on my interpretation of the USEI's short history, I believe it has served primarily as a leading indicator and secondarily as a coincident indicator of the S&P 500's direction.
With the USEI's current reading at 52.91 -- more than 50.00 indicates expansion, less than 50.00 suggests contraction -- I think it is clearly flashing a warning sign that the economy is languishing at stall speed at this time. Along the same line, the patterns in my economic and market data look familiar. "Too Familiar."